Nha Trang beaches are scattered around the beach resort area, offering tourists looking to soak up the sun during their holiday a myriad of sightseeing and leisure activities. Sometimes named the South China Sea Riviera, Nha Trang boasts a six-kilometer stretch of beautiful coastline set along the white sandy beaches with a wide range of dining and lodging choices.
In Nha Trang, no two beaches are the same, ranging from the busy Tran Phu Beach for travelers who want to be in the middle of all the action to the more remote Bai Dai Beach, which is perfect for escaping the often overcrowded area. Some of these places may be a long drive from Nha Trang City, but it is well worth a trip because of the peaceful scenery of the coastline.
Tran Phu Beach
From almost anywhere in Nha Trang City, Tran Phu Beach is easy to walk to, making it the most popular beach in Nha Trang. It hosts the iconic Tran Phu Lane, which is a beautiful seaside promenade with many resorts, hostels, souvenir shops, museums, and seafood restaurants on the luxury and mid-range beachfront.
Nightlife is also popular around Tran Phu Beach, with the Sailing Club, ZIMA, and Skylight Skydeck & Rooftop Beach Club being highly recommended bars. Alternatively, Tran Phu Beach provides a wide variety of activities such as surfing, snorkelling, bike tours, spa treatments, meditation and yoga.
Priced at VND 35,000 per day, you can also relax along the beachside on beach beds and deck chairs. There is a noticeable amount of litter, such as empty bottles and cigarette stubs, due to its prevalence in areas.
Hon Chong Beach
Just separated by a headland, Hon Chong is just north of Nha Trang's Tran Phu Beach. The famous Po Nagar Cham Towers are a five-minute drive away, where you are greeted by a peaceful beach area and the shape of piled rocks that reach out into the sea. The beach is free to join, but to climb the rocks you're expected to pay an entry fee of VND 22,000.
However, it's well worth the money and effort as you'll be greeted with a panoramic view of neighbouring islets and the crescent-shaped Nha Trang Beach. There is also a very peaceful environment here, with many coffee shops and seafood eateries scattered along the beach. Hon Do (Red Island), which has a Buddhist temple on a hilltop, is about 300 meters south of Hon Chong, while the northeast hosts Hon Rua (Tortoise Island).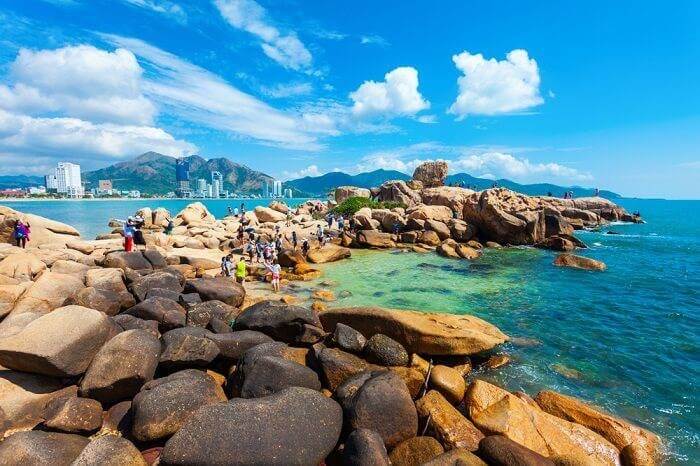 Bai Tru Beach
Bai Tru Beach is adjacent to the huge Vinpearl Amusement Park, located on Hon Tre Island. The island is connected to the mainland of Nha Trang by a 3,320-meter sea-crossing cable car, although you can also fly by ferry, taxi-canoe, high-speed cruise, car and motorcycle.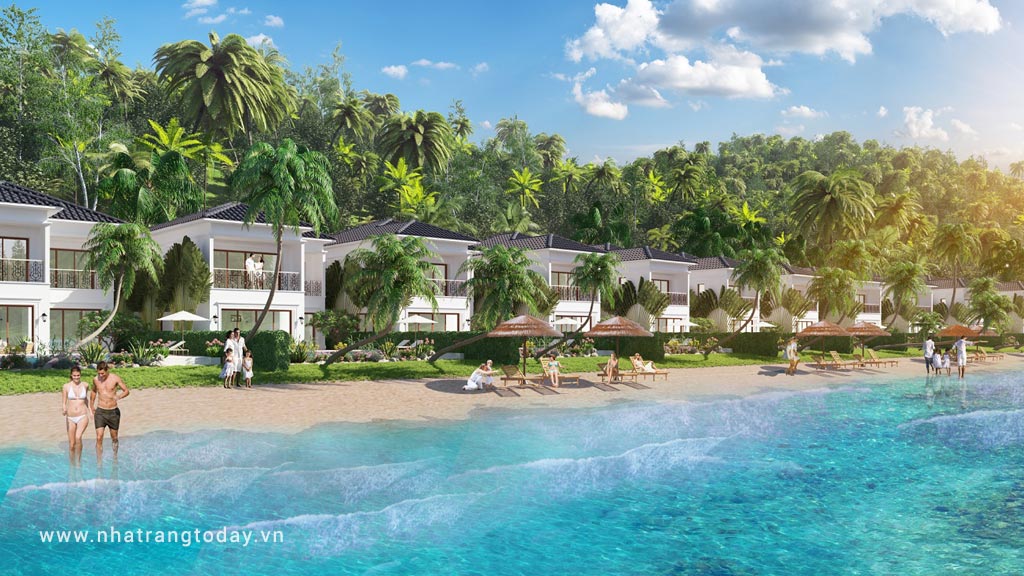 Vinpearl Amusement Park is the biggest attraction to the island, featuring a large aquarium, amphitheatre, shopping mall, and a variety of rides. However, there is an entrance fee of VND 1,100,000 if you want to spend a day at Bai Tru Beach, which includes return speedboat transfers, buffet lunch, and access to the beach and swimming pool.
Bai Dai Beach
Bai Dai Beach, located about 28 kilometers south of Tran Phu Beach, is a popular day trip among tourists because of its secluded and hippy-like atmosphere. Although there are scant options for sightseeing and lodging, you can relax on the pristine beach or enjoy a day of volleyball, surfing and swimming in its clear waters.
Bai Dai Beach is also home to many seafood restaurants, although the most famous one is called The Shack Vietnam. Bob Marley posters and wooden furnishings decorate the quaint hut-like establishment, while the kitchen serves up western favourites, fruit juices, and beers during the day.
Nhu Tien Beach
Nhu Tien Beach, a vast stretch of white sands, palm trees, blue waters, and green mountains, is the setting for the glamorous Diamond Bay Area. The privately owned beach is just a 20-minute free shuttle ride from the center, making it a common option for a quiet vacation in Nha Trang among affluent travellers.
Diamond Bay Resort & Spa hosts a 76-hectre golf course, spa centre, tennis court, and five onsite restaurants serving grilled seafood, Vietnamese, Asian, and western fare while activities available here include yoga, kayaking, jet-skiing, snorkelling, and banana boating. Diamond Bay City, where 15 luxury beach resorts, seaside villas, marinas, international schools, luxury shopping malls, amusement parks, hospitals, and a casino will be developed within a decade, is also undergoing major development at Nhu Tien Beach.
Doc Let Beach
45 km north of Nha Trang, Doc Let Beach provides mid-range and budget accommodation for backpackers looking to relax on the beach. Hoang Khang Doc Let Hotel & Beach, White Sand Doclet Resort & Spa, and GM Doc Let Beach Resort & Spa are famous hotels here.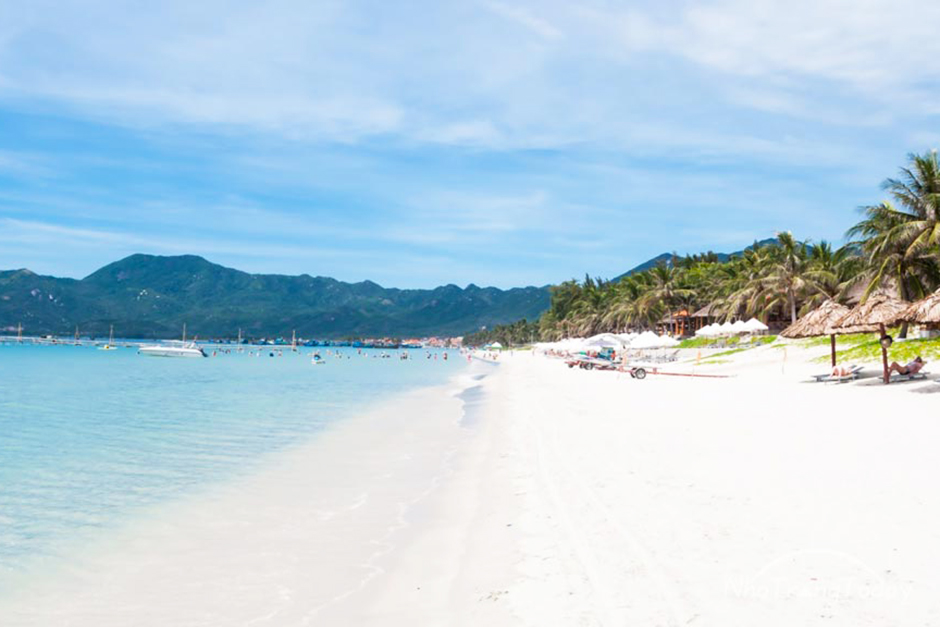 Featuring plenty of palm trees and fishing boats docked offshore, Doc Let is most popular for its salt fields where you can photograph the white salt mountains and locals carrying heavy baskets across the fields. Doc Let Beach is relatively untouched by construction, unlike the more tourist-friendly Tran Phu Beach, save for a handful of small shops and local restaurants. The sand is smooth and fine, squeaking under your feet as you stroll, and Doc Let is the perfect escape with a few others on the beach.
Jungle Beach
Thanks to its secluded location, frills-free lodging, green jungles, and charming fishing villages, Jungle Beach in Ninh Phuoc Village is popular among the backpacker community and offers the perfect relaxing getaway experience.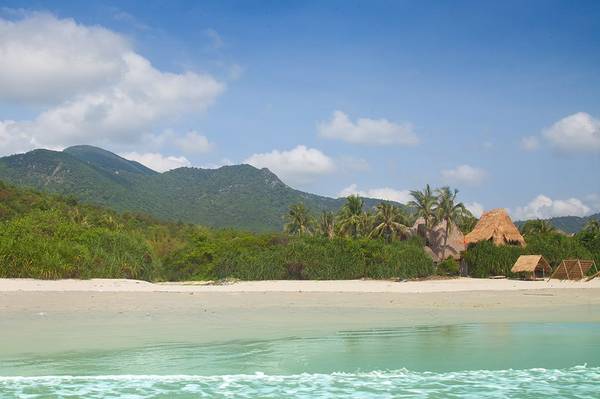 Situated 60 kilometers north of Nha Trang, tourists can enjoy a day of jungle trekking where wild monkeys, eagles, slow loris and douc langurs can be spotted. There are plenty of sports to enjoy as well, including snorkelling, diving, surfing, and beach volleyball, if you want to stick close to the beach.