The culture of enjoying coffee here is probably not like anywhere else. This familiar drink seems to provide energy, excitement and enthusiasm for the entire people of Saigon in a long day. The coffee shop here at first glance seems busy, noisy but multi-style, can please very any "believers" from many different places.

People here often drink pre-mixed coffee in large glass cups, less coffee, more ice, pale taste and sometimes drink with a straw. "Because young people need to be awake and refreshed, coffee is suitable for the hot, humid climate of this city," the Saigonese explained.
Coffee here drank pale but pure and gentle. Coffee brown when added with milk turns to amber brown. Many people say that this drink is so sweet because the people of Saigon are sweet and likable by nature. Saigon has only 2 hotter and hotter seasons, so coffee here drinks with lots of ice. Tiny ice cubes wobble, drink half a glass, shake and shake for fun. That animal is definitely only available in Saigon coffee.

Many first-time visitors to Saigon do not like iced coffee with milk because it is clearly a popular beverage. Coffee here is not picky people enjoy, there are hundreds of thousands of shapes, just like to drink, any hobby will be met. It is often said that "taste" of coffee reflects the culture of each locality because by looking at the drink, one can recognize where that person is.
Coffee in Hanoi is sophisticated, fond of enjoying and contemplating with the quiet, quiet nature in small, quiet shops. Green garden coffee with the humming of birds and the soft lyrical music, blended with a very strong coffee flavor can only be found in Hue. Dalat coffee is hot, special and aromatic. Guests come here to escape the busy life, feel the private space, the fresh climate of the windy highland.

The coffee of a city with a mixed culture like Saigon must also be open, liberal, active and comfortable. Early in the morning, at noon, in the evening, or in the middle of the night, anytime, Saigon people can drink coffee. From the unknown sidewalk cafe, no signs, only one can of Cow Huc instead of the announcement, but still sells up to hundreds of cups a day; to luxury shops for a cup of coffee a day's salary, every day there is a visitor.
The cafe here is not only a relaxing place where visitors can work, solve conflicts in life, meet friends or even find a love. The young Saigon can go into a small alley to reach the favorite cafe, or know when to sit to feel the beauty of nature.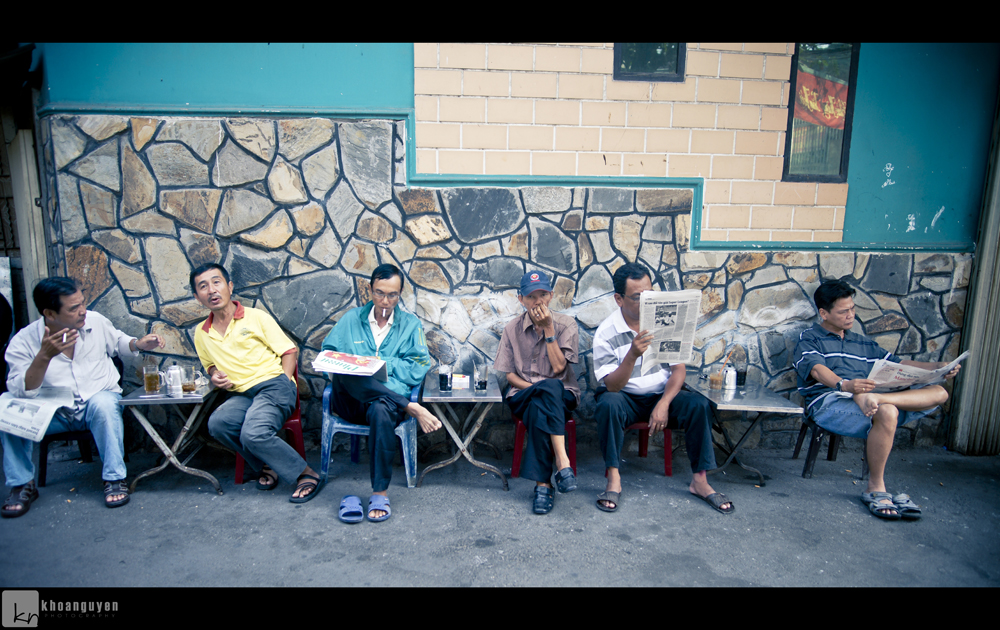 Saigon has about 10 million people with all backgrounds, career levels and all those different interests. It also has a variety of coffee to meet the needs: natural coffee, art coffee, music coffee, book coffee, stock coffee, pet coffee, antique coffee, even ghost coffee, hell coffee ..

Many bars decorated in French style, Hoi An lanterns, northern thatched roofs and always played pre-war music. For those who want to stay up late, go to an open 24-hour cafe. Each one is like, this is the city, but eventually everyone finds a suitable place for themselves. When you come to Saigon, feel free to call "Iced an iced coffee with milk", drink and then shake the mug back and forth, take a refreshing breath and start your day with the lively and noisy city.