1. Phở
Pho is the name associated with Hanoi, not just a simple dish, but also the beauty and sophistication of culinary culture in the eyes of world friends. The brands that make a name for Hanoi Pho must mention Bat Dan, Pho Thin, Pho Co …

2. Pho Tron
Coming to Hanoi, with only 25,000 – 35,000 VND ( ~ 1.5$), you can enjoy pho or vermicelli mixed very strange mouth. Mixed noodle in Hanoi is popular because it is easy to eat, do not worry about being bored. The aroma of roasted peanuts, dry onions when served with noodles, soft vermicelli and beef or chicken will keep you full for a while and still feel light on your stomach.

3. Bun Oc
Bun Oc is one of the famous dishes with bold characteristics of Hanoi. Noodles with attractive colors of steamed tomatoes and greasy, fragrant snails with yellow banana beans are things that diners can see. To make the bowl of bun snail more round, when eating, diners should add some sliced ​​banana flower and fresh raw vegetables.

4. Bun Cha
Previously, bun cha of Hanoi people was grilled with bamboo sticks, there were very few shops. Today, grilled vermicelli grilled pork bun is more popular. You can choose meat ball or pork pie to eat. The vermicelli dipping sauce in Hanoi is considered the soul of the dish and often comes in a large bowl, hot and fragrant.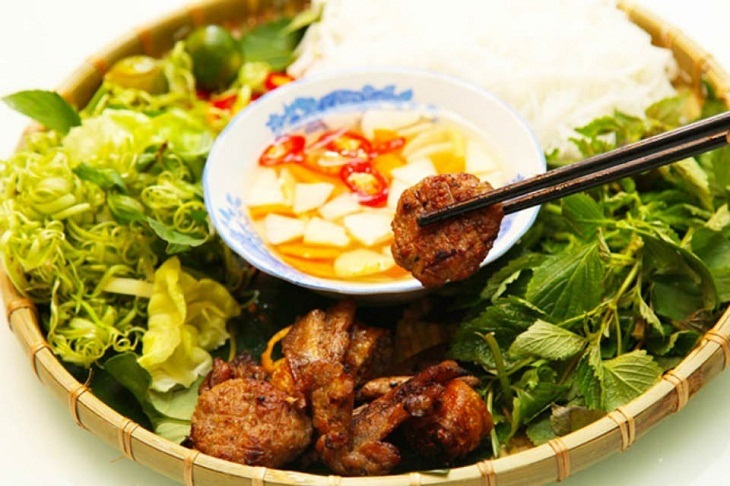 5. Bun Thang
Bun thang is a traditional dish of ancient Hanoi people. The bowl of bun thang looks simple but the material is quite picky with small noodles, chicken, fried eggs, shiitake mushrooms. To make the noodles more delicious and the broth, sweet and fragrant, it must be carefully cooked from chicken or shrimp bones. Diners can eat with raw vegetables.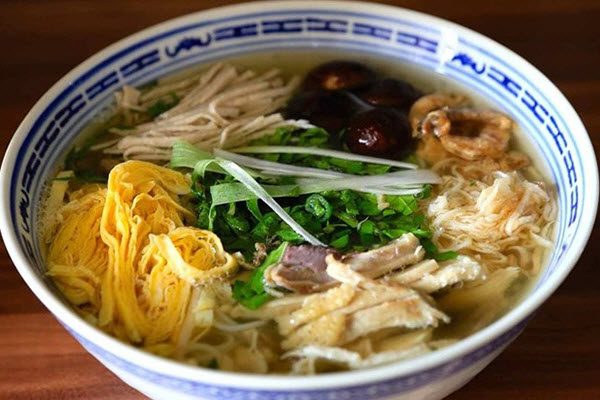 6. Pho Cuon

Hanoi's rolling Pho attracts diners by the softness of the pho noodles, the rich taste of the rolled beef and the coolness of raw vegetables, dotted with delicious dipping sauce to create a very Vietnamese dish, to please both the most difficult taste.

7. Banh duc nong
The hot cake with minced meat, wood ear, and onion is fried with a few pieces of fried, chewy fried beans and herbs. Casted rice bowls cost 15,000 VND ( < 1$). However, many visitors think that if you eat in the winter, you will feel better.

8. Oc luoc – snail

In Hanoi, there is no shortage of delicious snail addresses for you, each restaurant has its own secrets in how to make dipping sauce to attract customers. Young gourmets love a snail shop sometimes just because of the different dark dipping sauces or pickled fruit served right.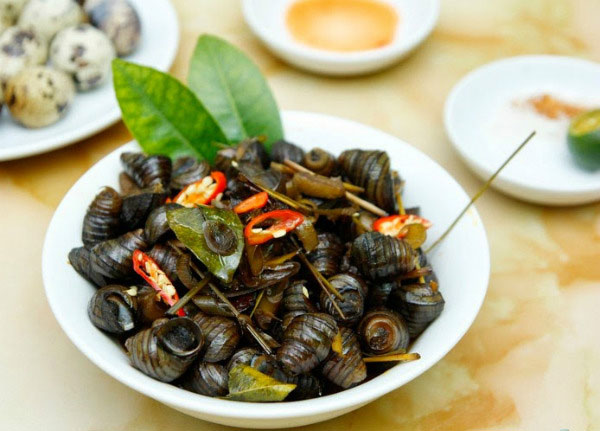 9. Banh tom Ho Tay – Shrimp pie
If you've come to Hanoi, visit Tran Quoc Pagoda, stroll around the windy West Lake, definitely don't forget to enjoy Ho Tay shrimp pie. The cake is made from rice flour and crayfish in West Lake area. The taste of aromatic and slightly fat cake is extremely attractive. Hot shrimp cakes are also served with spicy, salty sauce and raw vegetables. So the sickness will be alleviated a lot and bring your mouth.